Jerome Alan Cohen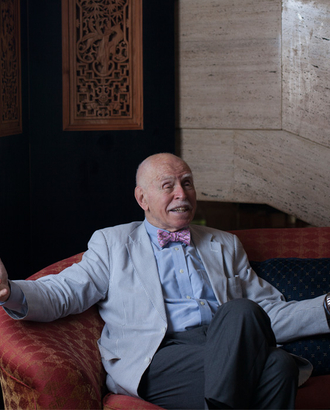 Jerome Alan Cohen
Doctor of Laws
Pioneering scholar of Chinese law, you have taught and mentored countless others in a field you helped establish in this country. A courageous voice for those whose voices have been silenced, you defend human rights around the globe. Bold trailblazer and advocate, for using your many talents to create a more just world, we are proud to present you with your third Yale degree, Doctor of Laws.
JEROME ALAN COHEN, a pioneering scholar of Chinese law in the United States, is a member of the Yale College Class of 1951 and received his J.D. from Yale Law School in 1955. For the past thirty years he has been a professor at the New York University School of Law, where he founded the NYU U.S.-Asia Law Institute.
Cohen was born in Elizabeth, New Jersey, the son of attorney Philip Cohen and schoolteacher Beatrice K. Cohen. After receiving his bachelor's degree in international relations, Phi Beta Kappa, he traveled to France as a Fulbright Scholar before enrolling at Yale Law School, where he served as editor-in-chief of the Yale Law Journal. Following clerkships with Chief Justice Earl Warren and Associate Justice Felix Frankfurter at the U.S. Supreme Court and service as a federal prosecutor, U.S. Senate consultant, and lawyer, Cohen joined the faculty of the University of California, Berkeley, in 1959. He later moved to Harvard Law School, where—as associate dean and Jeremiah Smith Professor of Law—he founded the school's program in East Asian Legal Studies, introducing Chinese and Japanese law into the curriculum.
In 1972 Cohen became the first American scholar and international lawyer to visit and initiate exchanges with North Korea. That same year he first traveled to mainland China, and he soon was an important figure in the opening of relations between the United States and the People's Republic of China, advising the Chinese government on its developing legal system and teaching law to Chinese business officials. During his long career he negotiated the freedom of democratic political leaders imprisoned by dictatorships in the Philippines, Taiwan, and South Korea, and established himself as a courageous advocate for human rights in China. Today he is revered by legal scholars, practitioners, and activists around the world, many of whom he has taught or mentored.
"Develop civil liberties! Denounce arbitrary detentions, demand access to information, and defend freedoms of expression! The four democratic Ds."
For two decades Cohen led the Asia practice of Paul, Weiss, Rifkind, Wharton & Garrison. He is a past C.V. Starr Senior Fellow and director for Asia studies, and current adjunct senior fellow, at the Council on Foreign Relations. His board service includes the Asia Society, the China Institute, and the National Committee on United States-China Relations. At Yale he is a frequent visitor, seminar leader, and supporter of initiatives including the Paul Tsai China Center.
Cohen has authored and co-authored many books and scholarly articles, and he continues to publish journalistic essays and blogs concerning Asia, international and comparative law, and Sino-American relations. In 2013 he received the American Society of Comparative Law's Lifetime Achievement Award and the Pacific Century Institute's Building Bridges Award, and in 2018 he was honored with the Japanese government's Order of the Rising Sun.
Cohen and his wife, the art historian and photographer Joan Lebold Cohen, are the co-authors of China Today And Her Ancient Treasures (1975). In 2018 Harvard Law School established a professorship in their name. The couple has three sons and seven grandchildren, and will soon welcome a second great-grandchild.